Power Factor Control Relay BLR-CM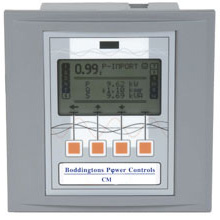 Reactive compensation plays a vital part in reducing losses in cables, transformers etc thus reducing CO2 levels. Today's microprocessor technology allows power factor control relays to accomplish far more functions than ever before. The CM relay provides a highly sophisticated power factor controller together with LCD multi meter display thus saving switchboard and panel space and panel wiring time. All electrical values are measured including harmonics for current and voltage 2nd - 31st. We can also measure import and export of kwh/kvarh. The relay is fitted with an over temperature alarm contact to start up a ventilation fan and faulty capacitor steps are disconnected with an instruction in the display to indicate that this particular step is disconnected. A very important safety device! The CM power factor relay has a complete programmable alarm system as indicated in the paragraph "SUPERVISION" – see download BLR CM 3 Phase pdf.
Standard Features
Fully self commissioning power factor control relay plus LCD display of all measured values including harmonics 2nd - 31st to THD alarm feature
Stored kvar value of each step held in micro processor memory to provide optimum compensation plus shortest switching time
Continual monitoring of capacitor kvar output and number of switching operations of each contactor/ thyristor
Reactive power compensation with recognition and memory storage of each capacitor step
Faulty capacitor step (s) displayed and disconnected
Most suitable kvar compensation selected for each switching step. Unequal kvar values possible for each step
MODBUS RTU available as optional extra with MINISCADA web link
Self commissioning – no C/K control
Multi meter LCD display with indication of current and voltage harmonics 2nd ... 31st
If there is a failure of capacitors, contactors, fuses or over temperature, the alarm will operate and the LCD display will indicate the cause of the alarm. A MODBUS RTU card can be fitted - RS485 and data logging can be undertaken using our MINISCADA which can be connected to the internet by modem/GSM.
Reactive power compensation units are used in companies to save costs and also to reduce the load of the network. This is the cause that there are special requirements for the control units of these compensation panels, the power factor control relays. The most important duty for the power factor control relay is the reliable regulation of reactive power. On the one hand this is reducing costs and on the other hand the current through cables and circuit breakers is also reduced. Another task is to supervise the function of the panel and to signal problems. These tasks are perfectly done by Boddingtons Power Controls power factor control relays with their patented regulation principle. By continuous measuring of the capacitor power the relay is always able to use the step with the optimal size. The programme for regulation is only defined by the choice of the used capacitor sizes. If capacitors, contactors or fuses are damaged, power factor regulators of the BLR-CM series are detecting this and they give an alarm. If necessary this alarm message can also be forwarded by the internal alarm relay.
Regulation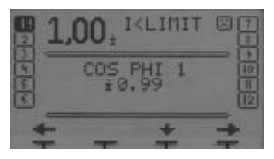 The intelligent regulation algorithm from Boddingtons switches the steps optimised and by this it guarantees short compensation times combined with smallest amount of operations. The operating cycles are shared equally to all steps.
All relevant parameters for the regulation are set ex works in the way that in nearly all cases no further adjustments are necessary to start the regulation. But this does not mean that the power factor control relay cannot be adapted to the compensation system by the means of further adjustments.
In the standard menu the following adjustments can be made:
Measurement: current and voltage transformer ratio, rated voltage
CT and PT ratio are only necessary display the correct measurement values. The setting for rated voltage is needed for over and under-voltage protection.
Regulation: target cosphi 1, target cosphi 2, switching time delay
Switchover from target cosphi 1 to target cosphi 2 is done by programmable events. This can either be the digitalinput or exceeding of threshold levels.
Adjustments for every step: rated value, discharging time, regulated on fix, off fix. The expert mode allows many further extensive settings.
Measuring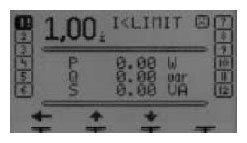 By means of the measurement values of voltage and current BLR-CM calculates the conditions in the network. As standard, the voltage L1-N and current in L1 is used. The separation of the auxiliary voltage and voltage measuring allows a voltage measuring range between 50-350V. Additionally, there is the possibility to change the phase shift between voltage and current in steps of 15 degrees. The result is the maximum possible flexibility of the relay for applications with voltage measuring phase/neutral, phase/phase and for mixed measuring with different transformer types.
The CM measures the temperature in the panel by using the integrated temperature sensor. This measurement value can be handled flexible eg it can be used for an alarm message. By the means of the digital output an additional fan can be activated. The CM power factor relay display the following measurement values:
Voltage (phase/phase and phase/neutral
Current
Active power
Reactive power
Apparent power
THD voltage
THD current
Harmonics for voltage (order 2-31)
Harmonics for current (order 2-31)
Counter active work import / export
Counter reactive work inductive / capacitive
Missing reactive power for target cosphi
Frequency
temperature
Features
All relays are fitted with these features as standard:
Auxiliary voltage separate from voltage measuring
Auxiliary voltage: 115/230V, 45-65Hz
Voltage measuring: 1 x 50 – 530V
Current measuring: 1 x 15mA – 5A
Relay output alarm: 1 x C/O contact
Digital input: 1 x 50 – 250V AC
Digital output: 1 x N/O contact
Sensor for temperature measuring
Types of different switching outputs:
CM06R – 6 stages (one common point) // CM12R – 12 stages (one common point) // CM06T – 6 static outputs (one common point) // CM12T – 12 static outputs (one common point) // CM12RT – 6 static outputs, 6 relays (two separate common points). Optional features : MB: RS485 with MODBUST RTU protocol.
Different auxiliary voltage on request.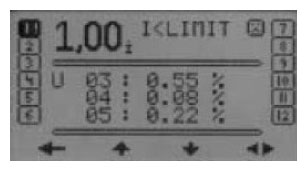 Supervision
The CM relay includes a lot of different supervision functions to guarantee a durable safe operation of the compensation system and to ensure a long life cycle of the used components. Some of these supervising functions are: under and over voltage; harmonics; defective steps; maintenance (loss of power and amount of operations); alarm by not reaching the target cosphi; temperature measuring with fan control and switching off steps; digital input.